Critique by
Sylvie KOECHLIN, sculptor

Pre-President of Salon d'Automne
SMOG 73 x 60cm (Yoneto BEI)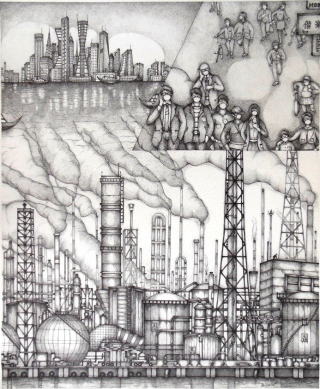 This work is a manifesto against air pollution.
The English title evokes the smog that is largely rising in this well-established composition. A industrial world of the polluting factories invades 2/3 at the bottom of the picture, which reach the pier of vessel tracing a horizontal line.
An entanglement of forms make way for verticals representing by the chimneys emitting the smoke while being driven by the wind.
In the upper left, the artist figured a modern city of shinning, reflecting on the water, and being surrounded by a halo of light, which we have ever dreamt. In the upper right, the geometric shape with an acute angle penetrates a crowd of people wearing face masks.
People approaching from the behind face the spectator of this painting, and some have mobile phones in hand, as if this invention of the modern world is also a factor of the pollution.
The nuance of gray colour gives one subject or idea to the entirety of this painting.
This is the painting of beautiful achievement backed by the line of architectural precision.